Charlie Murder, the new 4 player co op brawler from Ska Studios is the most authentic punk game I've ever played. Many games have claimed to be punk, sure maybe there's a Mohawk on the main character or they've licensed a couple of tracks from punk bands. In short it's usually used as a by line for being edgy or alternative in some way but, 9 times out of 10, these so called punk games are anything but.
While many games claim to be punk, Charlie Murder simply is, and does it with all the swagger and humour of Never Mind the Bollocks Here's the Sex Pistols.
You won't have heard the marvellous tunes used throughout the game because they're brand spanking new and insanely catchy, it's been years since the first time I played I MAED A GAME WITH ZOMBIES IN IT. That damn theme song is still stuck in my head. I have a feeling that the tunes from Charlie Murder are going to find a similar spot in my cranium to torment me and occasionally make me look like a lunatic at the worst possible time.
The art style is rough, ready and absolutely beautiful, like the angry pen and ink doodles of a disenchanted youth brought to life.
As Charlie and his band of misfits fight through rock clubs, sewers, forests and ancient castles on a quest to get to the battle of the bands and beat the snot out the members of rival Death Metal Band: Gore Quaffer, you'll have to fight your way though waves of zombies, pirates, ninjas, giant rat's and creepy little girls and at one point a giant robotic Sasquatch. There's no rhyme or reason for half of the baddies the game throws at you. But in all honesty, it doesn't need one.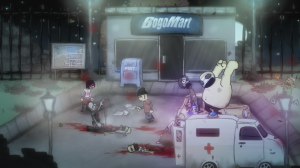 Combat is similar to Ska's last game: The Dishwasher, it's just as brutal, bloody and technically accomplished, each player able to string some rather impressive combos together with a few button taps before finishing off the hordes with special attacks that are linked to the characters chosen instrument. Charlie wails down a microphone creating a shockwave which knocks down everything in its path, Rex smashes the drums, Lester creates fire balls by slapping his bass, Tommy summons a spinning blade by thrashing his guitar and the bands backup singer, Kitten, wails just like Charlie.
As well as playing a different instrument each member of the band also has a different character class associated. Each member becoming even more distinguishable as you level up: unlocking new moves and tweaking stats via your characters mobile phone which keeps an eye on how many fans you've accrued (your xp), adjust your stats, have a look at what special moves you've unlocked for yourself as well as use the phone's camera to read RF codes in the background. This unlocks more loot such as clothes and knuckle dusters which further augment each of the characters stats and abilities.
As such, it's well worth replaying the game's opening stages with each of them to find the character you really click with.
After playing a few levels with Rex, who's big, hulking, incredibly strong but very slow and hilariously rides a pink girl's bike with basket in the mounted levels, I was getting a little stuck so I decided to start again and see what Charlie was like. Comparatively he is a lot quicker and focuses on dual wielding weapons to great effect. Especially useful considering pretty much everything in the game can become a weapon including opponent's arms, which you can rip off, then pick up and then beat them with the sticky end.
Other members of the band such as Guitarist/Shaman:  who's special skill is picking up the heads of dead enemies and creating healing points with them by shoving them on sticks really do show the game's co operative focus as although he works pretty well in solo play is an obvious support character.
In fact, although the game is still tons of fun in single player it can also prove to be incredibly tough at times thanks to each stage having very few checkpoints. So you might manage to struggle your way through a lengthy section get to the final boss and then get your ass handed to you. Annoyingly, chances are you'll be thrown right back to the beginning of the stage to try again. So you end up stomping all the way through the level over and over again until you finally beat the bastard, it's a minor niggle but does make it feel like you're constantly taking two steps forward and one step back, especially in the games later, lengthier and more difficult stages.
On the plus side though, any mini bosses you destroyed along the way are still dead and you retain any experience or delicious loot so at least it's not all for nothing.
When you've got some friends along for the ride though this problem pretty much vanishes as you have others to help keep you alive and hopefully beat back the forces of metal.
It's a shame really because the unintentional grind has a horrible habit of screwing up the games otherwise marvellously hyperactive pacing, which, on a good day, ensures that not only do you not know what's coming next but you're never doing the same thing for too long for it to get boring. The game switches styles and genre seemingly on a dime, from TMNT style brawler to a shooter to a weirdly accurate beer brewing sim, to a rock band style rhythm game.
To call the game anarchic would be an understatement; part Borderlands, part Castle Crashers, all Punk. A brilliant blend of fighting, shooting and looting which is as compulsive as it is charming.
Never Mind the Bollocks just go and play Charlie Murder.