Square Enix have announced that CI Games' next-generation action/role-playing game, Lords of the Fallen, will be released on 31st October for Xbox One, PlayStation 4 and PC.
In Lords of the Fallen, player take on the role of Harkyn, A convicted criminal who is given a chance for redemption after the army of a demonic god attacks the human realm. Released from prison, Harkyn and his mentor, Kaslo, set out on a mission to stop the war and rid the human realm of evil by travelling to the demonic dimensions and defeating the Rhogar Lords – the commanders of the god's armies.
Along with the announcement Square Enix also sent over a couple of rather spiffy looking new screens showing the game's protagonist Harkyn fighting some  rather nasty looking bastards. Enjoy.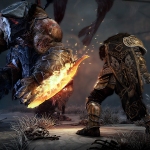 Incase you missed it. Lords of the Fallen will be out on 31st October for PC, PlayStation 4, and Xbox One.