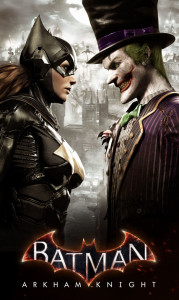 Warner Bros. have released a trailer for the first story driven add-on for Batman: Arkham Knight – Batgirl: A Matter of Family.
Developed by Warner Montreal (the guys that Made Arkham Origins) and set in a whole new area prior to the events of Batman: Arkham Asylum, Batgirl: A Matter of Family allows player to take on the role of Batgirl for the first time in the Batman: Arkham franchise. (It's about bloody time)
"When The Joker kidnaps Commissioner Gordon and holds him hostage at the Seagate Amusement Park, Batgirl and Robin must fight against the odds to save him and avoid falling victim to The Joker's sinister plan. Trained by Batman, Batgirl's combat combines with unparalleled hacking abilities to take down enemies, control objects and solve puzzles."
Batgirl: A Matter of Family will be available 14th July  for people who bought the Arkham Knight Season Pass and will be available separately on 21st July  for £5.79 via PSN and Xbox LIVE. there's no word of when it will be available on the PC.
If you haven't played Arkham Knight yet and are wondering whether its worth your time effort and money, why not check out our review.